NEW -- Single Parent Homeschool Fast Track is Now Available!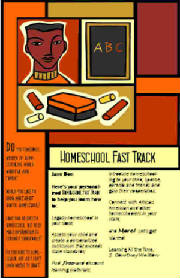 Do you sometimes wonder if homeschooling would work for your family?

Would you like to know more about how to homeschool?

Have you decided to homeschool, but need more information to convince your family?

Do you want to homeschool but just don't know where to start?
If you answer "yes" to any of these questions, then Homeschool Fast Track is for you!
Here's what Parents are saying about Homeschool Fast Track:
"It more than exceeded my expectations. I look forward to putting your tips to use. Thank you very much!"
---Homeschooling Mother of 3, Madison, Wisconsin
"Thank you very much and I can't wait to read it!"
---Single Parent Homeschooling Mom, Huntsville, Alabama
Created for the African-American family, each Homeschool Fast Track is individually designed to address your family's unique interests and needs and shows you:
How to legally homeschool in your state;
How to assess your child and create a personalized curriculum that exceeds state standards;
How to find FREE and discount learning materials;
How to introduce homeschooling to your child, spouse, parents and friends and gain their full cooperation (even your in-laws will want to help!);
How to find African-American and other homeschoolers in your state,
and More!