African-American Unschooling will host the 2005 African-American Homeschoolers Family & Friends Vacation at the Gullah Islands of South Carolina.
In addition to exploring the Gullah Islands, families will also be able to attend the
19th Annual Gullah Festival
, a four-day celebration of diversity in the arts in Beaufort, South Carolina.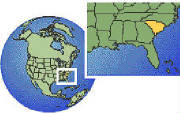 Check out the following resources to learn more about the Gullah people and culture:
What is Gullah? The Avery Research Center
Aunt Perlie-Sue's Folktales Listen now in Gullah and English!

NEW!
T-shirts, Tote Bags, Coffee Mugs and More!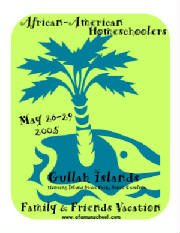 Join us for the 2005 African-American Homeschoolers Family & Friends Vacation
When: Thursday, May 26 - Sunday, May 29, 2005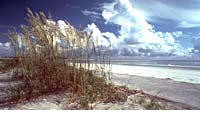 Accomodations: African-American Unschooling will reserve a large campsite on Hunting Island. We will have a "primitive group site" -- in other words, we will give up a few more picnic tables and a free-standing grill, for a semi-secluded campsite that can hold 100 people.

Hunting Island has many ecological aspects that broadens its appeal for Homeschoolers. While there, loggerhead turtles will be coming ashore at night to lay their eggs before heading out to sea. A plethora of 'small' animals call the island home, which explains how it got its name. The island was used before 1930 as a hunting area for deer, waterfowl and raccoons. The island also has an elaborate visitor center with information on the islands interesting history. One interesting 'tidbit' is that the island was used for scenes in two movies: "Forest Gump" and "G.I. Jane." Forrest Gump scenes include the Vietnam war and camp scenes. G.I. Jane shots include the jungle and water camp scenes.

The island has several trails leading to the lighthouse, marsh land and lagoon. There is even fishing allowed in the lagoon area. Fishing for spots, whiting, trout, bass and puppy drum is popular at the lagoon as well as crabbing and shrimping. The lagoon is a perfect spot for photography as the bird life is plentiful and used to human activity. Some people prefer to get a rubber raft and just float around. The lagoon is well protected from the wind and is very peaceful.

In addition to food, families should bring their own camping supplies such as tents, sleeping bags and air mattresses.

Cost: $50.00 per family. Deadline for payment -- May 1, 2005.






The 2005 African-American Homeschoolers Family & Friends Vacation has sold out; reservations can no longer be accepted.
If you would like to contribute to a scholarship fund to help other families enjoy the 2005 African-Amerian Homeschoolers Family & Friends Vacation, you may make a donation here:
Checks and money orders may also be sent to:
African-American Unschooling
7549 W. Cactus Road
Suite #104-340
Peoria, AZ 85381
Reservations are limited and are on a first come, first served basis. Payment must be received by May 1, 2005.
Questions?
E-mail the 2005 African-American Homeschoolers Family & Friends Vacation Coodinators:
New to camping or feeling a little rusty? Check out these links for helpful tips on preparing and enjoying your camping trip!
Camping Tips from Lovetheoutdoors.com
Monteran's Family Camping Tips