Planning for the Future
"Having a child starts in the process of the mind, before you get married. It doesn't begin with an act of sex. If God had a plan when he created the world, then we need to have a plan for parenting. Because of our career and financial planning, we now have time to train and appreciate our children. Growing up, I always desired to have a father. I see myself now as a son and yet as a father, fulfilling my own desire to be a son as I fulfill my role as a father."
Now in their second year of homeschooling, the Galloways are already making plans to begin homeschooling their daughter Naomi. "Right now, I'm learning. As a teacher, I need to keep a mindset to always be learning. I look for resources from people who are serious about God and serious about homeschooling."
Best advice to others
"It's very important to talk to people. You cannot think that your opinion is the only right opinion. Talk to other African Americans; take an aggressive approach to homeschooling. Homeschooling has to be primary. If homeschooling becomes secondary, then it becomes a nuisance. Get a network of people to work with – iron sharpens iron. Focus on fellowship, accountability, what you can learn from others. I am a big fan of working together so that all benefit. God wants us to work together as a family. Where there is unity, there is strength. If we work together, you'd be surprised at what we can do."
Jamal Galloway recommends the following resources: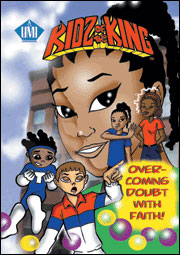 UMI KIDZ OF THE KING™
Children face tough issues every day. That's why Kidz of the King™ is perfect for your students. Have them follow exciting adventures as the Kidz battle evil and illustrate how to handle life's problems. Kidz of the King™ will entertain and enlighten the young and the young at heart.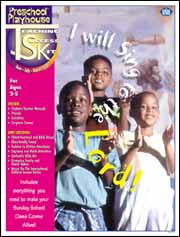 Preschool PlayhouseŽ Teaching Success Kit
Ages 2-5 Inside: • Student Folders/Teacher Guide • Activities • Visuals • Craft Kingdom™ • Scripture Scenes • Black History Personalities Poster and Profile Sheet