In This Issue
Pearls of Wisdom from JacQuie Ward
If They Don't Touch, They Can't Learn
Q & A With Erika Davis-Pitre
Family Profile
National African-American Homeschoolers Alliance
The Animal School: A Fable
Three to Watch
Three to Read
Jambo!
Welcome to the Spring Issue of FUNgasa: Free Oneself! The magazine "For Us, By Us," which celebrates the diversity of African-American Homeschoolers.

Our title comes from the Kiswahili word fungasa, a verb, meaning to free oneself. This is most fitting as increasing numbers of African Americans are enjoying the freedom of homeschooling. "Fun" is emphasized because leading a learning lifestyle is just that - Fun!
Pearls of Wisdom from JacQuie Ward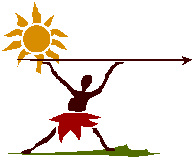 I was sitting with a group of Africans in mid-February (mostly Nigerians and Tunisians) and they were discussing the African model of family. As they talked, the one thing that really struck me was how they defined "self." Their concept of self is not internal and individualistic but rather external and inclusive. Ultimately, the "self's" well being is totally and inextricably tied to the well being of the "other." In certain respects, there is no other, every person you encounter contains elements of who you are and there is virtually no way to separate yourself by word or action from your family or community.
If They Don't Touch, They Can't Learn
I love the way that unschooling and life overlap. Just the other day my son and I were putting away some of Zion's toys. We have them organized in colorful bins from Ikea. However, once you stack the bins on top of each other, you cannot see the toys inside. I noticed that my husband had taped a photograph of a dinosaur on the outside of the bin that stored Zion's collection, which gave me an idea. Why not label all of the bins with photographs?
Q & A With Erika Davis-Pitre
In this section, Erika Davis-Pitre fields your unschooling questions, along with responses from you, our readers.
Family Profile
Maisha Khalfani shares her family's homeschooling experiences with S. Courtney Walton. Jabari and Maisha Khalfani and their children--five year old Safiya, four year old Dakari and one year old Khalid--live in our nation's capitol, Washington, D.C.
National African-American Homeschoolers Alliance
The National African-American Homeschoolers Alliance is a nonsectarian networking and informational organization serving the national African-American and international Black home schooling community. Launched in January 2003, the National African- American Homeschoolers Alliance seeks to empower parents with the tools to home school their children well by providing the largest and most comprehensive online database of home schooling, supplemental and educational information for African-American and Black homeschoolers worldwide.
The Animal School: A Fable
Written in the 1940's by George Reavis, a former assistant superintendent of the Cincinnati Public Schools, this fable has an unschooling message that was surprisingly ahead of its time.
Three to Watch
We're giving away a free TVGuardian with any annual membership and we're making it affordable with Easy Pay! Thats right, two great opportunities to enjoy the world's largest Family Friendly DVD rental service.

More... »
Three to Read
In celebration of Women's History Month...

More... »
Quick Links...