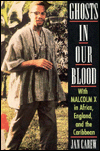 Ghosts in Our Blood: With Malcolm X in Africa, England, and the Caribbean
Almost thirty years after Malcolm X's assassination, his autobiography continues to sell more than 150,000 copies a year, and a spate of books, articles, and films in the 1990s have generated a groundswell of interest in the man who redefined America through his analysis of racism and his activism in the service of Black liberation worldwide. But, in the process, as Jan Carew observes in Ghosts in Our Blood, the significance of Malcolm's legacy has often eluded us. Combining the lyricism of the poet with the breadth of the scholar, Carew, whose conversations with Malcolm in Britain influenced the revolutionary's thinking toward the end of his life, captures Malcolm the intellectual in pursuit of a new vision of race and a global political movement uniting progressive Blacks and whites. For the first time, readers will gain an intimate knowledge of Malcolm's breakthrough to an internationalist vision following his historic trip to Mecca, his travels throughout Africa, and his life among the Black expatriate community in London. Central also to the intricate discussions that transpire between Malcolm and Carew is their common Caribbean heritage, which Carew unfolds in the first full-fledged treatment of the history of Malcolm's Grenadian and Garveyite mother.




Linda Brown, You Are Not Alone: The Brown V. Board of Education Decision
To mark the 50th anniversary of the pivotal 1954 Supreme Court ruling, Thomas (I Have Heard of a Land) gathers candid writing by 10 authors who collectively lay bare the profound, complex consequences of the decision. Their personal reminiscences capture a spectrum of powerfully expressed emotions, chief among them anger at the injustice they experienced or witnessed, regret and even shame at having felt hopeless to change the same or being blind to its prevalence. Jerry Spinelli poignantly recounts his friendship with the African-American neighbor he met in the summer of 1954, as they were both about to enter fifth grade; Eloise Greenfield's poem "Desegregation" captures, in 17 lines, the hopes and fears for the country through the eyes of a child. Quincy Troupe and Ishmael Reed each articulately address the court ruling's paradoxical negative repercussions on all-black cultural landmarks and institutions. Thomas's own poem takes one man's act of prejudice against her family and transforms it into a spiritual experience for all present. Providing a fitting finale is Leona Nicholas Welch's recreation of her graduation from the only Catholic "colored" high school in Mobile, Ala., conducted by a white bishop who addressed the students as "My dear colored people." Welsh concludes, "The bishop had come to remind us of what color we were. In actuality, he had only given us the impetus we needed to go show the world our true colors." Making a strong children's book debut, James's closely focused, lifelike pastel illustrations feature striking portraits and memorable images. Ages 10-up. (Dec.) Copyright 2003 Reed Business Information.
It's June 19 and you see a parade with music and dancing. But do you know why? It's Juneteenth, of course!